Chinlock Wrestling: COMEBACK 2022 results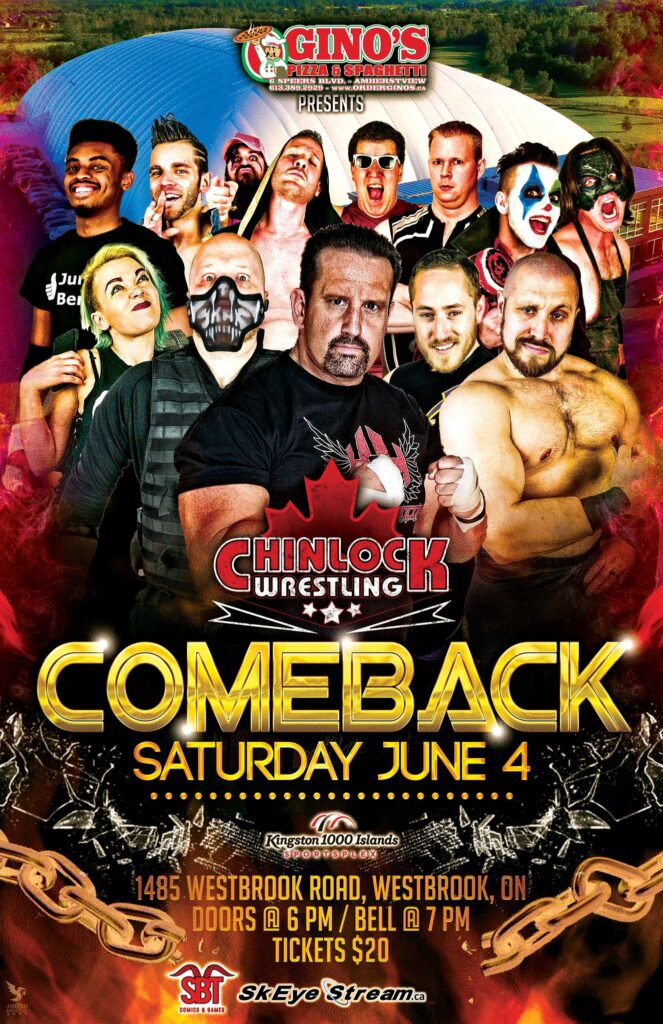 Attendance: 452 (sold out)
Ring Announcer: Justin Muia
Commentary Team: Sideshow and Andy Mac
The show opened with Chinlock Wrestling CEO and Commissioner Jan Murphy, who thanked the fans for coming back, welcomed them to the beautiful Kingston 1000 Island Sportsplex. Jan also paid tribute to longtime Chinlock Wrestling supporter and fan Doug Maxwell, who passed away suddenly weeks earlier, and Chinlock Wrestling superstar Shooter Storm, who also passed away suddenly in early 2022.
Spenny interrupted by entering to Hulk Hogan's famous theme music, Real American, and to introduce his first client who he all but guaranteed would walk away with the Kale Murphy Memorial Championship — that client surprisingly being Danny Franchise.
Danny Franchise defeated Jessie Mack to become the new Kale Murphy Memorial Champion. Spenny celebrated with his new client, and presented Danny with a new "Franchise Player" tshirt.
Our next match featured some amazing high flying and technical action as "The Hotstepper" Macrae Martin defeated newcomer Zak Patterson.
Our third matchup crowned the first ever Gino's Pizza and Spaghetti / Pisano's Oldschool Division Street Tag Team Champions as KL Shock and Pauly Platinum, collectively known as The Brothers, defeated Freak Nation.
It was then time for a Chinlock Wrestling staple, The Chinlock Rumble, which Jan Murphy dubbed the Shooter Storm Memorial in his opening speech. Ray St-Jean dominated the first half of the Rumble match, eliminating an impressive SEVEN competitors! Bill Welychka returned to action, and eliminated Deeno Benjamin before himself being eliminated by Ray St-Jean. But, in the end, it came down to Myzery the Barbarian and Payne the Hellraiser, who have a long storied history all across Ontario and the northern United States. Myzery nailed Payne with a Cactus Closeline and hung on at the last second to claim victory, and to become the new #1 Contender to the Chinlock Heavyweight Championship.
After intermission, we returned to Deeno Benjamin, along with "Charming" Chaz Lovely, defeating the newcomer "The Vagabond" Ryan Rogan in an excellent contest.
In the semi-main event, Ray St-Jean defeated Alexi Ourmorov and Rex Orion in convincing fashion.
And, in our main event of the evening, WWE and ECW Legend Tommy Dreamer gave CJ Felony a Dreamer driver through a Tim Titus hand-painted table to become your NEEEEEWWWWW Chinlock Wrestling Heavyweight Champion!
It was an amazing night of action, and we are so happy to be back! Our next event takes place when we return to the Kingston 1000 Island Sportsplex SATURDAY, SEPTEMBER 10 for Chinlock Wrestling: REVENGE — tickets are on sale NOW at Gino's Pizza & Spaghetti Amherstview (6 Speers Blvd), and are on sale online AT THIS LINK!